Looking for the best cat bed for a Maine Coon? Want one that they won't grow out of, and which they'll actually use? Then you're in the right place! Here's 5 (truly unbeatable!) Maine Coon cat beds, based on our personal experience of buying a cat bed for our Maine Coon (and researching it like crazy beforehand!)
See this is an honest guide, designed to save you time, based on our knowledge of Maine Coon cats! So let's get stuck in, shall we?
Where Do Maine Coon Cats Like To Sleep?
So first up, you might be wondering, "where do Maine Coon cats like to sleep?" Well, the easiest (most accurate!) answer to this is – anywhere & everywhere.
From lay flat-out on their back, on the end of your bed; to snuggled up in a cosy corner of the room, Maine Coon's can fall asleep in the funniest positions, and in the most random places! This leads to the question…
Do I Need To Buy a Cat Bed For My Maine Coon?
Although Maine Coon cats can make themselves comfy in most places, getting a cat bed for a Maine Coon is well worth the investment; especially if you're bringing a kitten home and want them to get settled in.
An enclosed cat bed can make your cat / kitten feel safe and secure. (Which I can't stress enough – is so important!)
Cats also spend approximately 2/3 of their life sleeping. They deserve a cat bed that provides them with all the comfort, warmth and security they need to get the best rest possible.
And hey… It's a pretty nice feeling when you actually see your Maine Coon using their cat bed; looking blissfully happy in it!
What Kind of Beds Do Maine Coons Like?
So, what kind of beds do Maine Coons like? Well, ones that are soft, warm and comfortable (of course!) but also ones which fit them in properly, which is why size is so important when picking the best Maine Coon cat bed.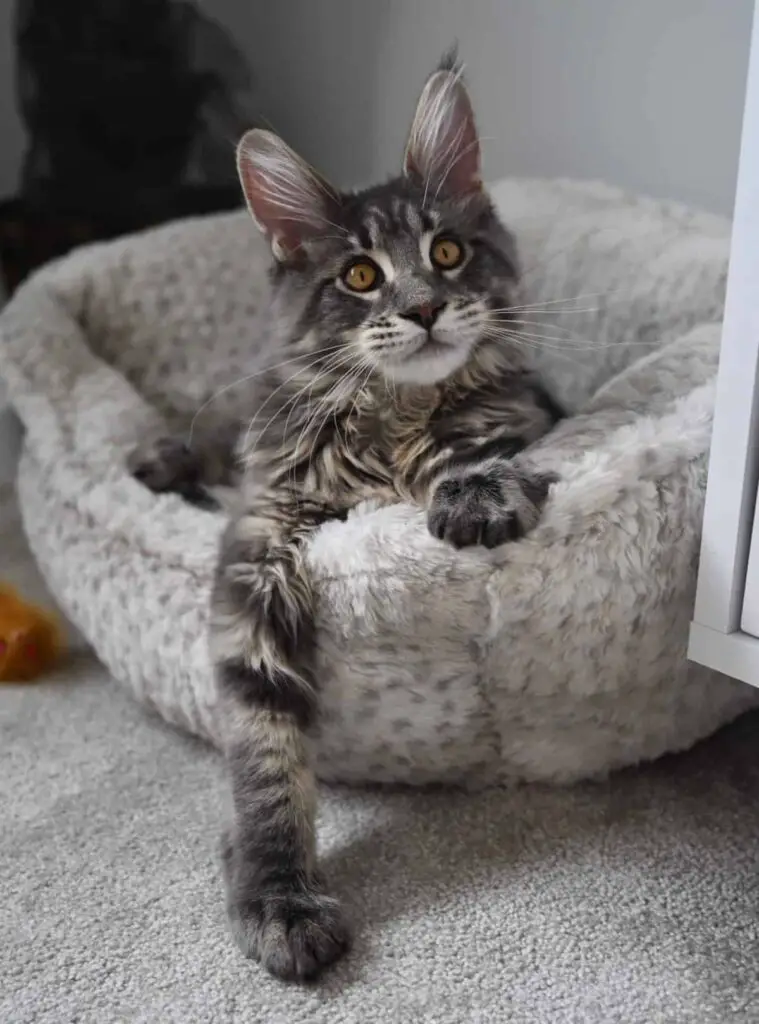 What Size Bed Should You Get For a Maine Coon Cat?
When it comes to the size of a Maine Coon cat bed, you essentially want to look at – not only what's wide enough – but also what weight in can hold.
See, we spoke about it when discussing the best Maine Coon cat carriers, but the average weight of a Maine Coon cat varies from 8-25 lbs. They also grow an impressive 10–16 inches tall and up to 40 inches in length.
And yes – cats often curl themselves up into a ball when sleeping. But they still want the space to stretch out when they need (without falling off the bed!) and a Maine Coon cat bed has to be strong and sturdy enough to hold their weight.
So that's why it's worth swatting up and investing in one of the most suitable Maine Coon cat beds, as it only saves you later down the line, if you end up having to buy another one. (Trust me, this is the mistake we made!)
6 (Unbeatable!) Maine Coon Cat Beds for 2023
So, what are our top recommendations when it comes to buying a cat bed for a Maine Coon? Well, in no particular order, here's – what we think are – the 6 best, UNBEATABLE Maine Coon cat beds for 2023.
Disclaimer: An Amazon Associate, I earn from qualifying purchases. There may be affiliate links within the post.
1) Calming Donut Cat Bed
First up, we've got the Original Calming Donut Cat Bed.
This comes in 3 different sizes and is designed not just for cats, but dogs too, which means space is never an issue! I always recommend getting the size up so your Maine Coon can stretch out and you won't have to worry about them growing out of it fast!
It's soft, seems INCREDIBLY comfortable, but is lightweight too – which means you can easily carry it from room to room, depending on which room you're sat in. (As you can guarantee your Maine Coon will want to then sleep in the same room as you!)
This cat bed is probably the bed our Cody spends the most time in, so I honestly couldn't recommend it more.
2) Heated Cat Bed
My next recommendation when it comes to Maine Coon Cat beds, is grabbing a heated bed.
Now there are many heated cat bed options, but my personal favourite is the GASUR Heated Cat Bed.
With a 7-layer protective structure pet heating pad, 6 adjustable temperature setting levels and 5 timer options, it's pretty comprehensive.
Maine Coons LOVE WARMTH! (Honestly, if I ever do a hot water bottle for myself, I'm battling my Maine Coon, Cody, over it!)
Which is why I just had to include a heated cat bed in the line-up… It's the perfect, warm, winter bed, giving your cat the extra love and care they deserve!
3) Window Hammock
Next up, it's the AMOSIJOY Cat Sill Window Hammock and I think this has to be included in the list of Maine Coon cat beds, because Maine Coon's LOVE being high up and watching outside!
You'll often find your Maine Coon lying on your window sill, only to end up snoozing up there – so it's a no-brainer to make it more comfortable for them by giving them a hammock bed!
This one is especially good as it's designed for large cats, with a thicker, sturdier frame that can hold up to 40lbs firmly on the window!
It's simple, easy to assemble yet incredibly comfortable for your new furry friend.
4) Hepper Pod Bed
Now for another personal favourite of mine – it's the Hepper Pod Bed.
This is another strong, sturdy cat bed – holding either 2 smaller cats, or one big cat (like our lovely Maine Coon), with a weight capacity of up to 40 lbs.
It's strong, spacious, yet designed to make your furry friend feel safe, warm and secure. The lid is detachable should you ever want to take it off – or you can keep it on, depending on what your cat prefers.
It's also elevated, giving your cat the raised bed they desire! The Hepper Nest Bed is another alternative. This comes without the legs.
However, Hepper beds as a whole are one of my favourite Maine Coon cat beds as they're still incredibly stylish and look good in a home, whilst still offering everything your cat will want and need in a bed! (So they're well worth checking out!)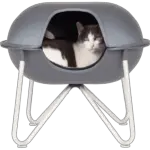 5) Deluxe Igloo Cat Bed
Another similar suggestion is the Refined Feline Deluxe Igloo Cat Bed.
It's scratch-proof, hand-woven and ultra stylish, making it – possibly – my ALL-TIME FAVOURITE Maine Coon cat bed, that fits in perfectly to any home.
It's cute, cosy and secure – like a little hiding place for your Maine Coon! And yet, it still offers ample space for them to move around and snuggle into.
This Maine Coon cat bed, also doubles up as a table, so it's multi-purpose. And unsurprisingly – it has incredible reviews. So, in essence, it's pretty unbeatable, all round!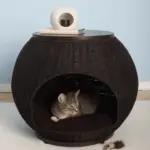 6) Cat Condo (With Multiple Beds!)
Last but not least then, if you're looking for a multi-purpose cat bed for a Maine Coon, then you can never go wrong by treating your Maine Coon to a Cat Condo.
Here, they'll get multiple beds and stands to sleep on. They'll also have a climbing tree and scratching posts incorporated within it, which are must-have essentials when preparing for a kitten (or cat!)
When you invest in a cat condo, you'll genuinely find them using it, multiple times, every day – which makes it a very safe, worthwhile investment.
There's plenty of cat condo's to choose from, varying in price and size. "The bigger, the better" is what I recommend, when it comes to choosing one that your Maine Coon won't grow out of. But have a browse; see what you can find!
Like I said – they're going to LOVE it, either way! So it's the perfect Maine Coon cat bed to complete this list!
That's All For This One
So there we have it – the best Maine Coon cat beds for 2023. I hope this makes your decision easier when going to buy a cat bed for a Maine Coon.
Kitting your cat out with everything they need, is super important; but it's also fun too! So have fun with it!
There are many pro's and con's to Maine Coons, but – in my opinion – the pro's FAR outweigh the cons. And if you have to buy a bigger bed, that's just one small thing, in the endless list of GOOD things you'll gain from your lovely new furry friend!
Wishing you all the love & happiness in the world with your Maine Coon. Be sure to click here for more breed-specific guides.