Wondering what you can dress your cat up as for Halloween? And if cats can wear Halloween costumes to begin with?! Then you're in the right place. Here's our quick and concise guide to celebrating Halloween with your cat, featuring 13 of the very best Halloween costumes for cats in 2023. So let's get stuck in, shall we?
Can Cats Wear Halloween Costumes?
First up – can cats wear Halloween costumes? Ultimately, yes! But only if they're comfortable wearing them and you should only keep them in them, for as long as they want to wear them for.
See, according to the ASPCA – Halloween costumes on pets can be okay. But, for some pets, wearing a costume may cause undue stress. They therefore recommend that you:
"Do not dress your cat in a costume unless you know he or she loves it. If you do dress up your pet for Halloween, make sure the costume does not limit his or her movement, sight or ability to breathe, bark or meow. Check the costume carefully for small, dangling or easily chewed-off pieces that could present a choking hazard. Ill-fitting outfits can get twisted on external objects or your pet, leading to injury."
However, if you're clever picking your Halloween costume for cats, you can not only find the ones that are safe, but also the ones that are the least obtrusive for them… which keeps you cat happier wearing them for longer!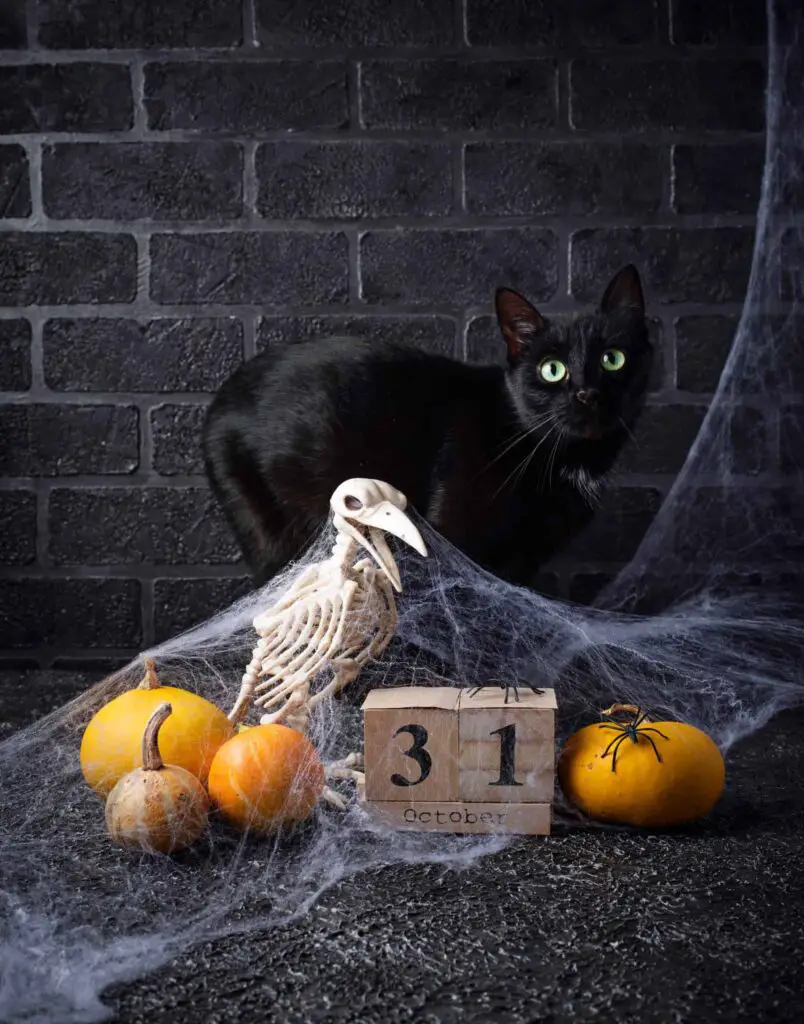 What Can I Dress Up My Cat As For Halloween?
See, you can dress up your cat in any – safe – homemade costume, or buy specially designed Halloween costumes for cats. Either work.
It's then just a case of deciding what type of Halloween "look" you'd like to go for your cat (and this is the fun part!)
See you can go for classic halloween costumes, creative halloween costumes, funny halloween costumes – the lot! So let's have a look at what we've got, shall we?
13 (Epic!) Halloween Costumes For Cats in 2023
So, what have we rated as some of the very-best Halloween costumes for cats in Halloween 2023? Well, in no particular order, it's got to be…
Disclaimer: An Amazon Associate, I earn from qualifying purchases. There may be affiliate links within the post.
1) Vampire Costume For Cats
First up, we've got to start with a vampire costume for cats.
We personally recommend this vampire cat costume as it's by-far the top rated, and designed to be a non-intrusive, comfortable fit.
A vampire is actually one of the best Halloween costumes for cats for this reason – as all you really need is a cape loosely tied around their shoulders.
We dressed our Maine Coon, Cody up is a vampire, to match our outfits, when he was just a kitten and it was SO sweet! So we can definitely say that this works as a Halloween costume for the mighty Maine Coon cats too!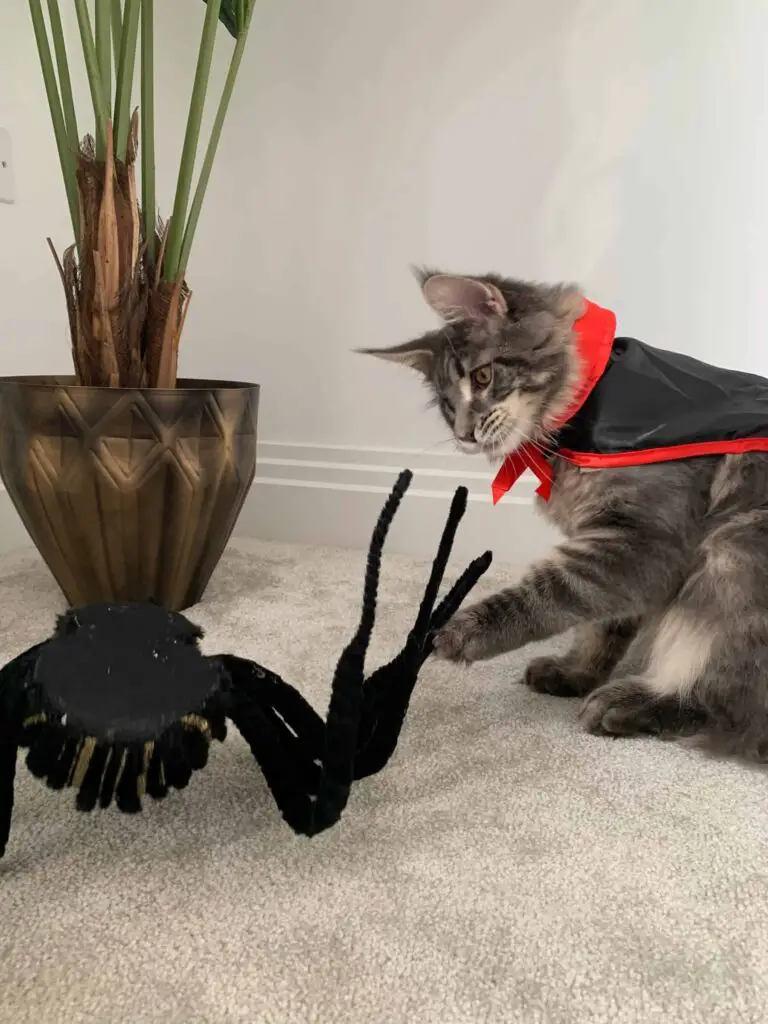 2) Halloween Bat Costume For Cats
A bat costume is another popular option when it comes to Halloween costume for cats.
In fact, there are lots of vampire and bat cat halloween costume bundles, which are really great value and enable you to trial the two for pretty-much the same price.
These work well as, again, it's just a simple velcro strap that goes around your cats chest to secure it on.
If you've already trained your cat to get used to a harness (if you take them outdoors), you'll most likely find they barely even notice their bat wings, as they fix on in a similar way.
But it's a super cool, simple yet fun Halloween costume for cats that's guaranteed to bring a smile to yours – and everyone's- face!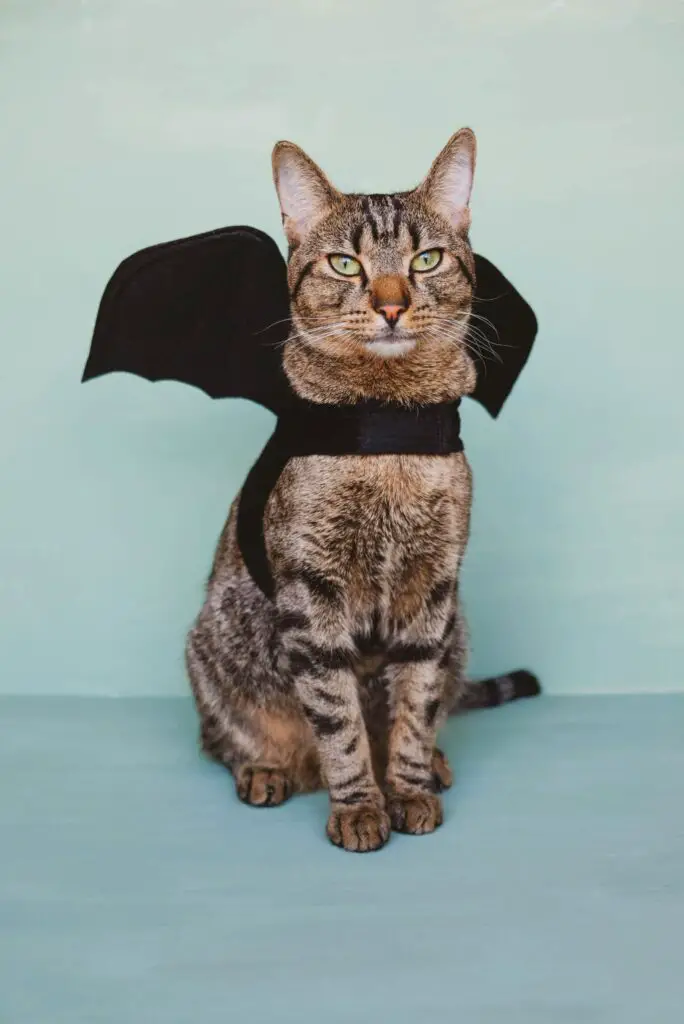 3) Halloween Witch / Wizard Costume For Cats
Another Halloween costume for cats that we can't get enough of – is this witch / wizard outfit, coming with a cape and a hat!
It's fun, very seasonal and just utterly adorable – as I'm sure you'll agree!
4) Harry Potter Wizard Costume For Cats
Okay so here's the coolest part so far – if you're a Harry Potter fan, you can even get a Harry Potter Wizard Costume for cats, which comes with: glasses, a tie, and a cape.
You can even pick which house they will be in as they've got a:
We think these are absolutely brilliant and they're unsurprisingly, top rated for the reason!
Even if your cat only wears the full costume for a couple of minutes (whilst you manically snap pictures) then you remove any of the extras that they're not comfortable with and treat them with (lots of) treats – it's well worth it, as you'll have the most adorable photos from it!
5) Halloween Pumpkin Costume For Cats
Next up, we've got to include a pumpkin costume for cats, as one of the best Halloween costumes for cats.
After all, it's another classic and makes your furry friend look really, rather sweet!
Most pumpkin costumes for cats come as simple headpieces, but there's full pumpkin costumes for cats too.
You have to be careful to make sure that your cat is definitely happy to wear this one…
But if they're chilled and easy going, it could be a great, different, halloween costume for your cat, this Halloween season!
6) Pumpkin Fleece For Cats
Now if you're looking for Halloween costumes for cats that are actually comfortable and practical at the same time – you can always browse the array of Halloween fleeces for cats.
This pumpkin fleece for cats is our personal favourite but there's plenty to choose from!
The benefit of these is they help to keep your furry friend warm in the process.
This is perfect if you've reached the level where you can take your cat on a walk outdoors and you think they need an extra layer or two if it's especially cold!
It's only like a cat surgery recovery suit (and they even do Halloween versions of these if you're looking for Halloween costumes for cats around the time of their survery!)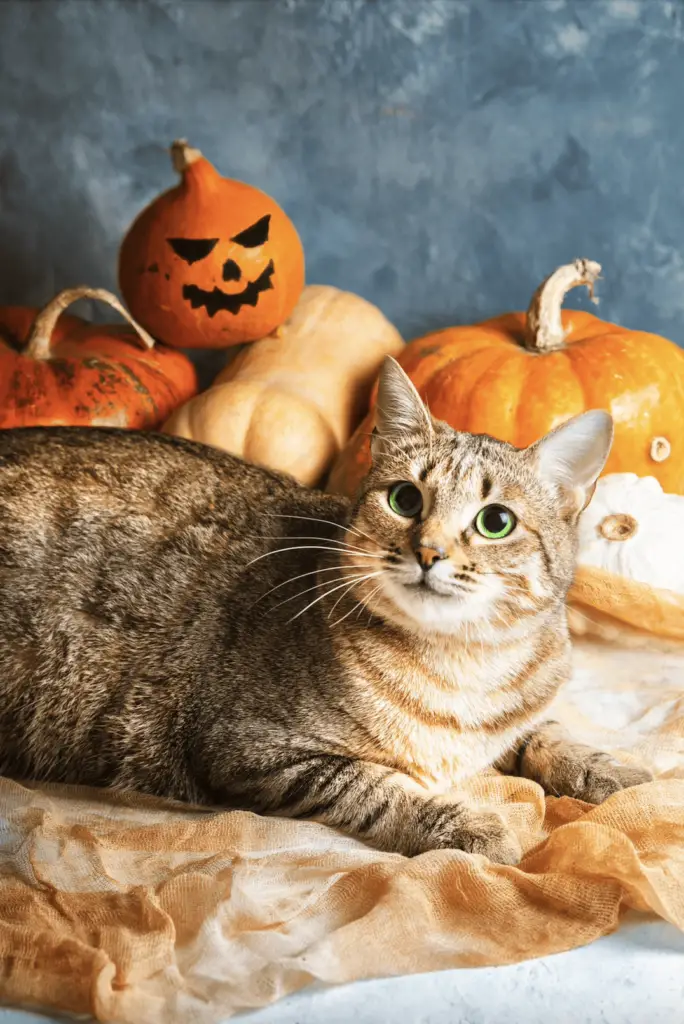 7) Shark Costume For Cats
Now, if you're looking for cute and funny Halloween costumes for cats (maybe to match your unique kids Halloween costumes!), then this top-rated shark costume is guaranteed to go down a treat!
It's actually designed to look like a shark has eaten your cat! (Bless them!)
But the best thing about this costume – is not only can it be worn as a Halloween costume, but you can put it on your cat whenever you have visitors, to give them a real scary surprise! (Ha!)
It's fun, silly, supposed to be very comfy and cosy for them; but also totally original!
8) Pirate Costume For Cats
Similarly, this pirate costume for cats is – arguably – the most EPIC one yet!
With 202 reviews, scoring it 4.3 stars, this is one of the best rated Halloween costumes for cats, so – understandably – we can't quite get enough of it!
Now, it is one of the biggest Halloween costumes for cats also. It's one of those costumes that attaches at the back, but covers the entire front of them, so you completely transform your cat into a different character (and they look hilarious when they're running over to you, front on!)
But, the good thing is – it is pretty lightweight costume, so depending on your cats personality, if they're very chilled, the chances are – they won't mind it!
Either way, it is undeniably, a hilarious show-stopper of a Halloween costume for cats, that will certainly go down a TREAT! (Pun intended!)
9) Halloween Spider Costume For Cats
Talking of funny costumes… One of the funniest Halloween costumes for cats has got to be this spider costume!
The great thing is – it, again, fits comfortably and easily around your cats shoulders, yet transforms them into an 8 (well, technically 12!) legged beast!
It's simple, yet genius… And guaranteed to give anyone a good old giggle!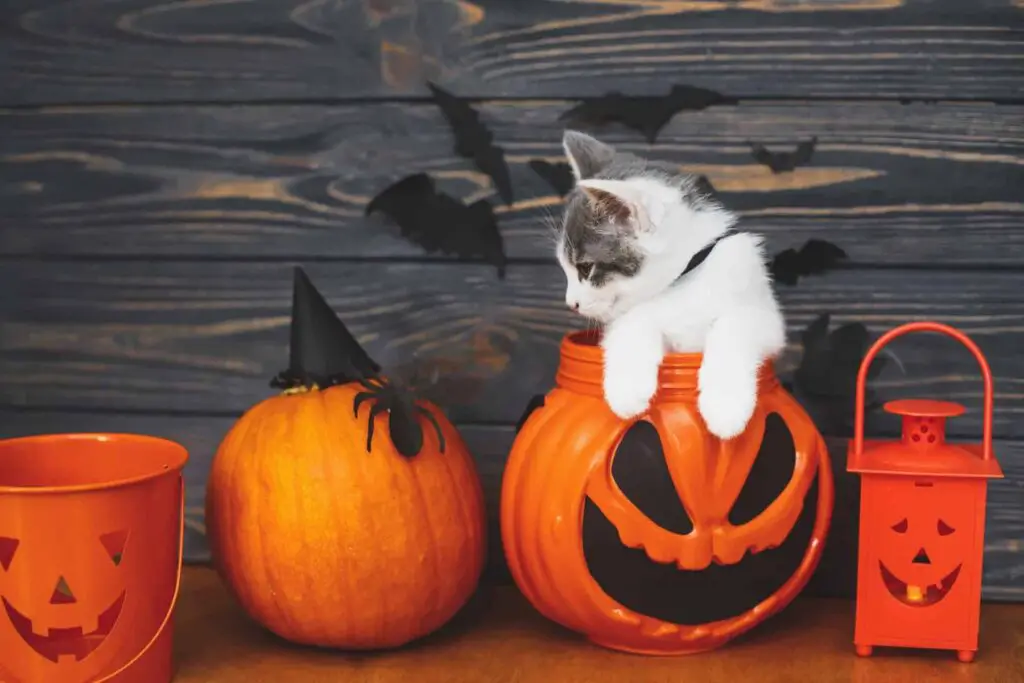 10) Cat Lion Mane Halloween Costume
Turn your cat into the king of the jungle and become the center of attention this Halloween!
Forget tricks to teach your cat – this is the ultimate TRICK at Halloween, dressing your cat up as a lion! It's also fun, funny and utterly adorable!
11) Cowgirl Costume For Cats
Speaking of which… If you're looking for sweet and girly Halloween costumes for cats, we see no better option than this pretty-in-pink cowgirl costume!
It's fun, different and oh-so feminine, for your female furry friend!
It's a Halloween costume for cats that most people wouldn't expect, and that's why we love it. Be bold, be brave!
12) Halloween Devil Costume For Cats
On the flip side, is your cat known for being a bit of a rascal / devil?!
Are they constantly scratching at your carpet, or waking you up in the early hours of the morning?! (We feel your pain!)
Then there's no better Halloween costume for your cat, than a devil cat costume!
This one comes as a multi-piece set with the horns, a cape and a collar (although we love the idea of adding a devil tail on too!), but you can mix and match to see what they're happy to wear.
It's a very spooky, seasonal, Halloween costume for cats and if your cat is black – it couldn't be more fitting, because – as you'll learn in our surprising black cat facts, black cats were once thought to be the devil!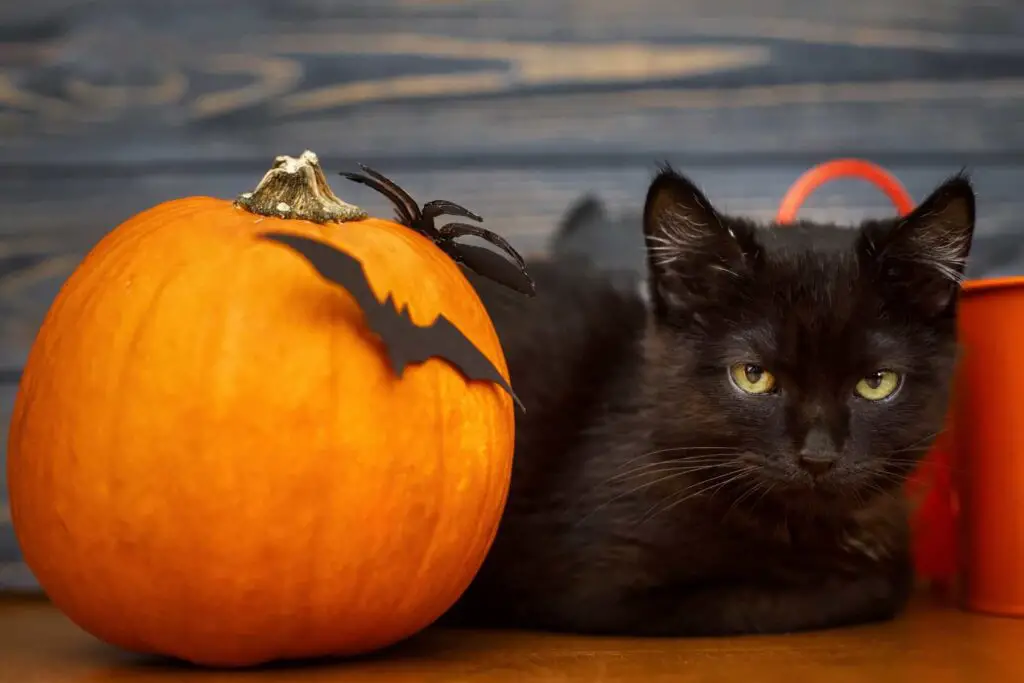 13) The Hooded Cat Costume
This leaves us with our final favourite Halloween costumes for cats which is… the hooded cat costume. It's hilarious, a little random but full of character.
This 3 piece costume comes with a hooded sweatshirt, necklace and sunglasses so that your cat can "be whoever they want to be!"
It's a little daft really, but it creates a HELL of a lot of conversation, come Halloween!
That's All For This One
So there we have it – that rounds up our 13 all-time favourite Halloween costumes for cats in 2023.
I hope this has filled you with ideas and inspiration. Just don't forget – these costumes aren't just for you, they're for your cat. So only keep the costumes on them, for as long as they're happy having them on.
Wishing you all a spookily good Halloween 2023. Be sure to have lots of fun with your furry friend!